In 1966, Don Fiedler, who is now the Manager of New Business Development for Components, joined the very young Duncan Aviation avionics team as its fourth employee. Then called American Learjet, the company (Duncan Beechcraft) had recently relocated from Omaha, Nebraska, to the Lincoln Airport, and Don primarily worked avionics, doing repairs and installations in Bonanzas, Barons and King Airs. One Learjet 23 was located on the airport, and he worked on that as well.
Don will wrap up his 50th year in the aviation industry—all of which he has spent at Duncan Aviation—with his retirement in September 2016. He has distinctive memories of every one of his five decades, and he fondly remembers the 1970s as a decade in which Duncan Aviation expanded and grew its avionics capabilities.
"We did some avionics installs on Cessnas and some on helicopters for Harry Barr's company called Panhandle Aviation," says Don. "But once Donald [Duncan, the founder of Duncan Aviation] and Bill Lear finished their negotiations in the '60s, we were one of only five Learjet service centers in the United States, and by 1970, we were doing a lot of avionics work on Learjets, too."
Thinking of Learjets reminded Don of how much the late Bill Lear loved the hamburgers from the King's Food Host on 15th & Cornhusker. Although the Lincoln institution was eventually franchised, there were no King's restaurants in Wichita, Kansas, where Learjet was located.
"Whenever Bill flew a Lear to Lincoln, he'd radio ahead and ask us to have 10 or 15 King's hamburgers waiting for him. He'd take most of them back to Wichita with him," says Don, laughing.
After becoming an authorized Learjet service center, Duncan Aviation acquired all of the test equipment and began repairing and installing avionics equipment in Learjets. Donald Duncan was the best Learjet salesman in the country. In his lifetime, Don Fielder remembers that Donald sold more than 450 Learjets.
When an aircraft was in for an avionics installation, Don says Donald could be a bit of a mercenary about getting the work done.
"Donald would say, 'We're paying interest on that airplane until it's sold'," Don says. "One time, we had a Beechcraft Baron in here that we were selling to King's Food Host, and we installed a complete avionics package in it, including an autopilot. I worked autopilots in those days, and I had been working on the install and checkout for more than 20 hours. I went home, took a little nap and then kept working. We finally got it working; Larry Collier and I installed it. We tested it at 1 a.m., and it was out the door the next morning!"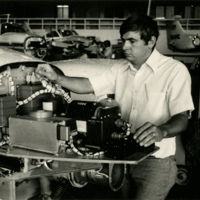 Another time in the early '70s, Don remembers doing an installation on an older DC-3 for Forke Brothers Auctioneers.
"Back then we didn't have two shifts—we had the day shift and overtime," says Don. "It was New Year's Eve, and we were installing new avionics on an older DC-3. It wasn't going well, but we had to get it done. We stopped briefly at midnight to acknowledge the New Year, but then we just kept on working through the night and into the next morning."
In 1974, the Avionics shop was split into two departments—the bench and installations. Don managed the five guys who worked the avionics bench, and Ron Hall ran install, which also had about four guys.
Soon after this split, Clay Lacy brought his aircraft to Duncan Aviation for the first time. He'd acquired a really early Learjet 25, and it had a mixture of autopilots, servos and other older avionics equipment that he wanted to modernize.
"The Learjet was a really early serial number, a prototype, and we were modifying it to match the avionics equipment that was routinely installed in new Learjet 25s in the factory," says Don. "It needed a whole lot of work, though, and it ended up spending six months in Lincoln so we could modify, install and test all of that equipment.
"That was the start of our more than 40-year working relationship with Clay Lacy," adds Don.
Ron Hall was the Installation Engineer back in those pre-AutoCAD days, and installations sometimes started out as drawings on the back of a napkin.
"Ron knew those Learjet prints backward and forward, and he knew what had to be disconnected or reconnected and to what. The formal drawings were in a big, bound book, but when he was making changes, he'd always make changes on copies of the original prints," says Don. "Later, he'd go back and render a formal drawing, but he still drew it by hand. Then, we'd add that formal, final drawing to the prints that went with the aircraft."
In the late 1970s/early 1980s, Larry Collier who was managing the avionics department at the time pushed to get a license for AutoCAD to render avionics prints.
Larry presented his idea to then President Robert Duncan, who agreed. "After that, rendering formal drawings was much easier. Before AutoCAD, Larry or Ron would have to redraw the whole print every time anyone made a change. With the computer program, they just made modifications to the drawing," Don says.
One of Don's favorite memories from the 1970s was related to electronics but not necessarily avionics. He remembers the bag phone that Donald Duncan had in his Cadillac. It was one of the first mobile phones anyone at Duncan Aviation had ever seen.
"He loved that phone," recalls Pam Orr, Travel Coordinator and 39-year Duncan Aviation employee. "When Donald suffered his heart attack and died in 1981, the phone was buried with him."
---
2016 is a special year. It is Duncan Aviation's 60th year of helping business aircraft operators be safe, efficient and productive. For six decades, customers have asked us for solutions and services. We are celebrating our 60 years by telling the stories about the people of Duncan Aviation who listened and took action.
Celebrate with us by subscribing to the Duncan Download blog, following us on Facebook and Twitter (@DuncanAviation) and visiting our anniversary website at www.DuncanAviation.aero/60.