Today, Friday, October 2, is Manufacturing Day.
Did you know the highest salary and benefits of any industry in America belong to the manufacturers? Yet, according to Manufacturing Institute (www.themanufacturinginstitute.org) only 35 percent of parents say they would encourage their children to pursue a manufacturing career, despite the advanced skills and high pay that are characteristic of work in today's advanced manufacturing industry.
Why?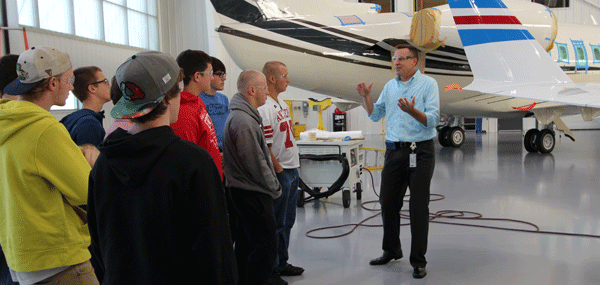 This is due to a perception about manufacturing that existed a generation ago but does not represent the current reality of the industry.
Manufacturing Day addresses common misperceptions about manufacturing by giving manufacturers an opportunity to open their doors and show what manufacturing is — and what it isn't.
Today, more than 2000 manufacturers across all 50 states, District of Columbia, Puerto Rico, Mexico and several Canadian provinces are hosting events and inviting high school students, their parents and educators to come for a visit.
Duncan Aviation "Dream It. Do It."
Duncan Aviation hosted a "Manufacturing Day - Dream It. Do It." event today at its Lincoln, Nebraska, facility. Several high school students and their teachers from the surrounding area were welcomed by Duncan Aviation's chairman, Todd Duncan. During the event they were guided on a tour of the company's large maintenance hangar and visited with Duncan Aviation employees about the opportunities available in the business aviation industry.
Jeff Maas, small engines teacher from Elkhorn High School, in Elkhorn, Nebraska, brought his class to Duncan Aviaiton to give them a change to see real-world application to what is being taught in his classroom. "In the classroom the hands-on experience comes from working on lawnmower engines. I wanted to bring them to Duncan Aviation so they could begin to understand that the principles they are learning are applicable to more than just a lawnmower."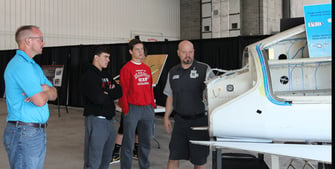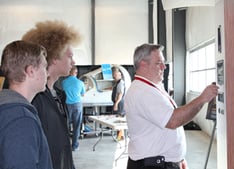 Sponsored by The Manufacturing Institute, the "Dream It. Do It." program is designed to address the national and local skills shortage by helping students, parents, and educators understand the global and local challenges employers are faced with when trying to find skilled workers.
This program provides a pathway to obtain the necessary skills that lead to career opportunities with local companies like Duncan Aviation to strengthen our economy.
Duncan Aviation is the largest family owned aviation maintenance company in the world and employs more than 2,000 aviation professionals around the world. To learn more about the career opportunities at Duncan Aviation, visit www.duncanaviation.aero/careers.
As Duncan Aviation's corporate recruiter, Paul Dion is always on the lookout for the right candidates that have the work ethic, skill, and determination to join the Duncan Aviation team. His aviation career began in 1986.
Click to edit your new post...