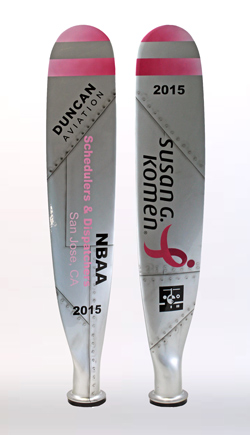 During the upcoming NBAA Schedulers and Dispatchers Conference in San Jose, Calif., one lucky attendee will go home with this propeller custom-painted by Duncan Aviation aircraft paint experts. The propeller is black, silver and pink and is emblazoned with the well-known Susan G. Komen® running ribbon and Duncan Aviation's unique aircraft logo.
For the Feb. 3-6 Conference, Duncan Aviation has joined forces with Susan G. Komen and will go Passionately Pink® to help educate attendees about breast health and to raise funds for Susan G. Komen, which is working to end breast cancer through groundbreaking research and community health outreach programs.
Troy Hyberger, FBO Services Supervisor at Duncan Aviation's Lincoln, Neb., location, believes the male-dominated industry of business aviation is the perfect place to share valuable information from Susan G. Komen regarding risk assessment, screenings and healthy lifestyle choices. "Breast Cancer hits close to home for everyone, not just the ladies," says Hyberger.
His inspiration comes from watching members of his own family go through the emotions of being diagnosed, treated and fighting hard against breast cancer. "It is our wives, mothers, daughters, and other female family members who are the ones fighting the fight against breast cancer."
Look For The Pink Booth
You won't be able to miss Duncan Aviation's booth (#809) this year. It's the one where everyone is wearing pink in front of the bright pink backdrop. In honor of every visitor who stops by to say hello and stays to fill out an informational card or provide a business card, Duncan Aviation will make a corporate donation to Susan G. Komen. The winner of the propeller will be drawn from these cards in the booth on Thursday, Feb. 5.
Duncan Aviation will also hold prize drawings every hour during the show for Duncan Aviation and Susan G. Komen merchandise.
To donate to Susan G. Komen through Duncan Aviation's Passionately Pink efforts, please visit www.DuncanAviation.aero/events/sdc.