Sometimes conducting business is not about the business.
During the recent NBAA Schedulers and Dispatchers Conference in San Jose, CA, Duncan Aviation team members from FBO Services, Customer Service and the Flight Department showed their Passionately Pink® colors while partnering with Susan G. Komen to raise awareness and funds for breast health. All money raised went towards ending breast cancer through ground-breaking research and community health outreach programs.
Troy Hyberger, supervisor FBO Services in Lincoln, NE (LNK), believes this campaign is in line with the company's Core Values. "There are several at Duncan Aviation and throughout our industry who are struggling with breast cancer," says Troy. "Duncan Aviation Core Values state that we support our community. This industry is our community."
Duncan Aviation team members greeted show attendees wearing pink shirts, standing in a pink booth and handing out Passionately Pink pins and breast cancer self-awareness brochures.
For every visitor who stopped by and completed an information card or provided a business card, Duncan Aviation made a corporate donation in their honor to Susan G. Komen.
These cards were entered into a drawing for a black, silver and pink propeller custom-painted by Duncan Aviation master paint specialists. It was emblazed with the well-known Susan G. Komen running ribbon and the Duncan Aviation logo.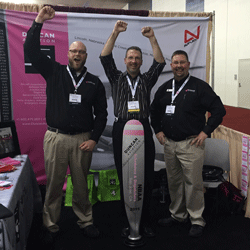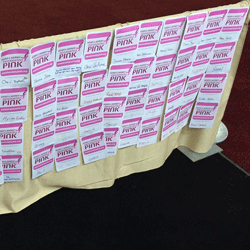 The winner of the propeller was Charlie Stockton of Mid-American Corporation.
In the booth, the names of people who have fought, won or lost their battle with breast cancer were featured on an Honor Wall of Fame.
It was very emotional not only for our team members but also for the many who have experienced breast cancer themselves or lost loved ones. One customer said "I would expect nothing less from Duncan Aviation and their people."
This Passionately Pink campaign was a declared a success raising $2,625 during the show.
Get Passionately Pink®
You can still donate to Susan G. Komen through Duncan Aviation's Passionately Pink efforts through the end of the month. Please visit bit.ly/duncan-komen.